Page 1 of 86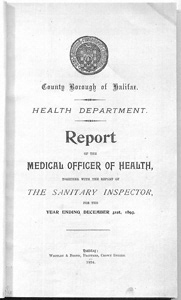 © Digital image copyright Calderdale Libraries
Borough of Halifax Report of the Medical Officer of Health, 1893
Reports from Medical Officer of Health and from Nuisance Inspector to Council Sanitary Committee.
Author: D. Ainsley & D. Travis
Date: 1893
Location: Halifax
Format: Report
Document ID: 100892
Library ID: 27661669
The report from the Medical Officer details births and deaths in the area, diseases and the fever hospital. The Sanitary or Nuisance Inspector reports on street cleaning, toilet cleaning, public nuisances, smoke observation, inspection of slaughterhouses, dairy producers and bake houses and food analysis.