Page 1 of 2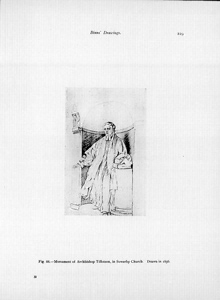 © Calderdale MBC
Binns' Drawings: Tillotson Monument, Sowerby Church and Wood Lane Hall, Sowerby
Drawings of Tillotson Monument, Sowerby Church and Wood Lane Hall, Sowerby, West Yorkshire.
Author: Thomas Binns
Date: 1855
Location: Sowerby
Format: Drawing
Document ID: 100860
Library ID: 14313753
Drawings by Thomas Binns, local artist of the 19th century who published a popular set of "Reproductions of Pencil Drawings" in 1841-1846, much reproduced thereafter.
p1: "Monument of Archbishop Tillotson, in Sowerby Church. Drawn in 1856."
John Tillotson was born in 1630 at Old Haugh End, Sowerby. He became a Puritan cleric and married Oliver Cromwell's niece. After being chaplain to Charles II and a favourite of William of Orange, he became Dean of St. Paul's and then Archbishop of Canterbury in 1691 until his death in 1694. The monument to him in St. Peter's Church in Sowerby was erected in 1746 according to his grand-niece's will.
p2: "Woodland [or Wood Lane Hall], Sowerby. Drawn in 1855."
The house was built in 1649, the year of Charles I's beheading, by John Dearden. The previous timber-framed F-plan house was encased in stone, and a two-storey porch erected with an unusual apple and pear window identical to the window at New Hall, Elland. Above this is a sundial with the date of 1651. The exterior of the building has many finials, pinnacles and grotesque masks. It is a Grade I listed building.
Pages taken from "The Yorkshire Coiners 1767-1783. And Notes on Old and Prehistoric Halifax" by H. Ling Roth, Honorary Curator of Bankfield Museum, Halifax. Published in Halifax in 1906 by F. King & Sons, Ltd.