Page 1 of 1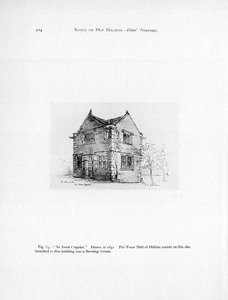 © Calderdale MBC
Binns' Drawings: Swan Coppice
Drawing by Thomas Binns of a house in Swan Coppice, Halifax, West Yorkshire.
Author: Thomas Binns
Date: 1841
Location: Halifax
Format: Drawing
Document ID: 100857
Library ID: 14313753
" 'In Swan Coppice.' Drawn in 1841. The Town Hall of Halifax stands on this site. Attached to this building was a Bowling Green."
Drawing by Thomas Binns, local artist of the 19th century who published a popular set of "Reproductions of Pencil Drawings" in 1841-184, much reproduced thereafter.
Page taken from "The Yorkshire Coiners 1767-1783. And Notes on Old and Prehistoric Halifax" by H. Ling Roth, Honorary Curator of Bankfield Museum, Halifax. Published in Halifax in 1906 by F. King & Sons, Ltd.