Page 1 of 1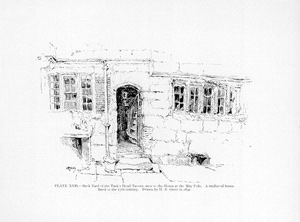 © Digital image copyright Calderdale Libraries
Back Yard of the Turk's Head Tavern
Drawing of Turk's Head Tavern back yard, Halifax, West Yorkshire.
Author: H.R. Oddy
Date: 1890
Location: Halifax
Format: Drawing
Document ID: 100846
Library ID: 14313753
Drawing in 1890 by H.R. Oddy of the back yard of the Turk's Head Tavern, Old Market. The pub was next to the House at the Maypole, a medieval house which was faced with stone in the 17th century. The tavern was demolished in 1890, and the House at the Maypole was also dismantled in the same year, but was re-erected at Shibden Park by John Lister.
Image taken from "The Yorkshire Coiners 1767-1783. And Notes on Old and Prehistoric Halifax" by H. Ling Roth, Honorary Curator of Bankfield Museum, Halifax. Published in Halifax in 1906 by F. King & Sons, Ltd.
Henry Raphael Oddy (1852 - 1907) produced landscapes, topographical and architectural pictures in watercolour, pastel and pencil. He was initially a carpet designer, and suffered long periods of paralysis of the limbs. He took up professional painting in 1890 and was a founder member of the Halifax Art Society. Brother-in-law to Halifax painter Richard E. Nicholson.