Page 1 of 1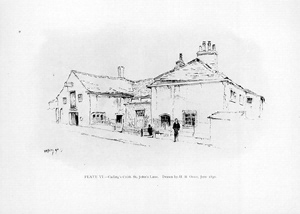 © Digital image copyright Calderdale Libraries
Cading's Croft
Drawing of Cading's Croft, St. John's Lane, Halifax, West Yorkshire.
Author: H.R. Oddy
Date: June 1890
Location: Halifax
Format: Drawing
Document ID: 100836
Library ID: 14313753
Drawing by H.R. Oddy of Halifax town centre buildings at Cading's Croft, St John's Lane, in June 1890.
Image taken from "The Yorkshire Coiners 1767-1783. And Notes on Old and Prehistoric Halifax" by H. Ling Roth, Honorary Curator of Bankfield Museum, Halifax. Published in Halifax in 1906 by F. King & Sons, Ltd.
Henry Raphael Oddy (1852 - 1907) produced landscapes, topographical and architectural pictures in watercolour, pastel and pencil. He was initially a carpet designer, and suffered long periods of paralysis of the limbs. He took up professional painting in 1890 and was a founder member of the Halifax Art Society. Brother-in-law to Halifax painter Richard E. Nicholson.