Page 1 of 4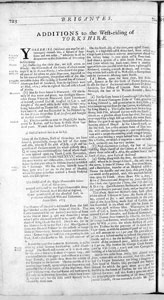 © Calderdale MBC
Camden's Britannia, newly translated into English: with large Additions and Improvements (Document ID: 100805)
Calder valley pages of a topographical account of Britain.
Author: William Camden
Date: 1695
Location: National
Format: Topographical Survey
Document ID: 100805
Library ID: 28344761
William Camden (1551-1623) published his "Britannia" in 1586. It became a milestone in the development of historical studies. The first edition was in Latin and it was not translated into into English until 1610. This edition, by Edmund Gibson, appeared in 1695. Camden's original description of Halifax was one of the earliest attempts to explain the rise of the textile industry, suggesting that its unsuitability for farming was a major reason for the shift to an industrial economy capable of sustaining an expanding population.
For the title page of Camden's Britannia see document 100804.