Page 1 of 2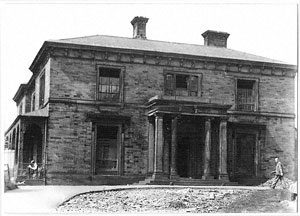 © Halifax Courier
Photograph - Mono (Document ID: 100732)
Girls High School, Craven Lodge, Francis Street, Halifax, West Yorkshire.
Author: Jack Townsend
Date: 1930
Location: Halifax
Format: Photograph - Mono
Document ID: 100732
Library ID: 083248
Showing two sides of Craven Lodge, Francis Street, used by Halifax Girls High School prior to the building of Princess Mary School. The girls' grammar school opened on the same site in September 1931 by Princess Mary and closed in 1984 when it merged with Highlands School to become North Halifax Grammar School. The buildings were taken over by the Percival Whitley College. It is now a part of the campus of Halifax New College.
This photo is by Jack Townsend of the Halifax Photographic Society.