Page 1 of 43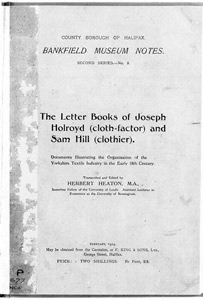 © Calderdale MBC
Letter Books of Joseph Holroyd and Sam Hill
Letters illustrating the organisation of the Yorkshire textile industry in the early 18th century.
Author: Herbert Heaton
Date: February 1914
Location: West Yorkshire
Format: Clothiers' Letter Book
Document ID: 100490
Library ID: 27737547
Letters from Joseph Holroyd (cloth manufacturer) and Sam Hill (cloth merchant). Also gives background information on the two men and their dealings with each other.
Sam Hill was a merchant whose export trade to Europe from Belgium to Russia made him a wealthy and successful business man in the Calderdale area. He lived in, and ran his business at Making Place in Soyland, and it was an example of early or proto-industrialisation of the wool process in the upper Calder valley. Hill was rich and internationally famous, exporting different types of cloth throughout Europe and as far afield as St Petersburg. Phyllis Bentley's book "Manhold" is based on his life.