Page 1 of 1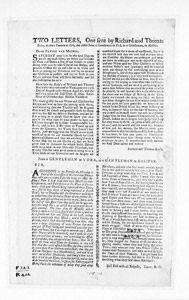 © Digital image copyright Calderdale Libraries
Two letters, One sent by Richard and Thomas Boys
Letter to the parents of Richard and Thomas Boys from their condemned sons, outlining their burials.
Author: Unknown
Date: 1767
Location: Colne
Format: Handbill
Document ID: 100430
Library ID: P343R414
Richard and Thomas Boys were executed at York 15th of August 1767, for crimes of robbery. The letters are as follows:
A letter to their family asking for forgiveness. Also they ask that their children be freed from any stigma surrounding their crime. The letter also ask that their bodies be carried back to Coln (Colne) to be buried with their family.
A letter to a gentleman in Halifax from a gentleman in York.