Page 1 of 9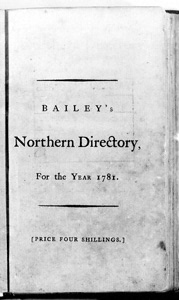 © Calderdale MBC
Bailey's Northern Directory for the Year 1781: Title page, Acknowledgement, Index
Trade Directory for the north of England 1781.
Author: W. Bailey
Date: 1781
Location: North Britain
Format: Directory
Document ID: 100416
Library ID: 380BAI
Cover, title page, index and introductory section to "Bailey's Northern Directory, or, Merchant's and Tradesman's Companion, For the Year 1781. Containing An Alphabetical List of the Names and Places of Abode of the Bankers, Merchants, Manufacturers, and other Eminent Traders, in Every Principal Town From the River Trent to Berwick Upon Tweed, with the Cities of London and Westminster, Edinburgh, and Glasgow. Compiled with great Care and Accuracy. Warrington, Printed by William Ashton; And sold by the Booksellers in Liverpool, Manchester, Hull, York, Birmingham, Leeds, Sheffield, &c. &c."
For an other extract from Bailey's 1781 "Northern Directory" see documents: