Page 1 of 1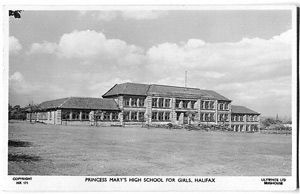 © Larkfield Group Limited
Princess Mary's High School for Girls, Halifax
Exterior view of Princess Mary's High School for Girls, Halifax, West Yorkshire.
Author: Unknown
Date: not dated
Location: Halifax
Format: Postcard - Mono
Document ID: 100297
Library ID: 34562300
The Princess Mary High School opened in 1931 closed in 1984 when it merged with Highlands School. The building was taken over by Percival Whitley College, later becoming Calderdale College when Halifax New College and Halifax School of Integrated Arts were recently combined.
Still standing 2003.