Page 1 of 1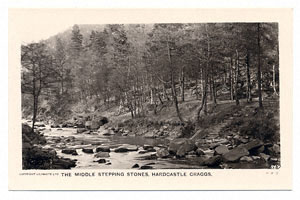 © Larkfield Group Limited
Middle Stepping Stones, Hardcastle Crags
View of stepping stones at Hardcastle Crags, near Hebden Bridge, West Yorkshire.
Author: Unknown
Date: not dated
Location: Hebden Bridge
Format: Postcard - Mono
Document ID: 100226
Library ID: 34561092
Hardcastle Crags are one of Calderdale's better known beauty spots and are located near Hebden Bridge. The stream is named Hebden Water after its locality, Hebden Dale. The National Trust has owned the area for over half a century. Lord George Halifax Lumley-Savile donated 250 acres in 1948, and in 1950 the National Trust launched an appeal to buy a further 168 acres. Henry Mitchell Ingham stepped in and bought the land for the National Trust. In 1957 Abraham Gibson left Gibson Mill and his family home Greenwood Lee to the National Trust.
In the mid-1930s plans were made to make Hardcastle Crags into a reservoir. These plans were submitted several times; eventually the House of Commons rejected them in 1970.