Page 1 of 1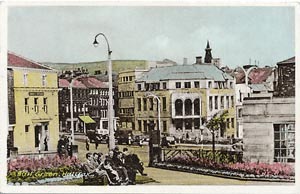 © Digital image copyright Calderdale Libraries
Bull Green, Halifax
View of Bull Green, Halifax, West Yorkshire.
Author: Unknown
Date: not dated
Location: Halifax
Format: Postcard - Colour
Document ID: 100159
Library ID: 34559750
Situated near Bull Green, which is said to derive its name from the bull baiting which took place there in the 16th century. Cow Green might have been the site of a cattle market which served the town. The area was formerly occupied by textile warehouses before undergoing redevelopment between 1914 and 1932.
Re-opened in the early 1970s as part of the improvements to Halifax's town centre roads. Other contemporary improvements included Burdock Way over North Bridge.