Page 1 of 1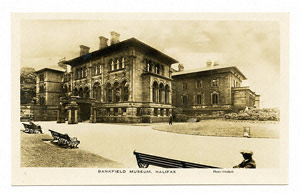 © Gledhill
Bankfield Museum, Halifax (Document ID: 100070)
Exterior view of Bankfield House, Akroyd Park, Halifax, West Yorkshire.
Author: Unknown
Date: not dated
Location: Bankfield
Format: Postcard - Mono
Document ID: 100070
Library ID: 34560989
Bankfield House was built for Edward Akroyd (1810-1887) who lived there from 1837 to 1856. He was the grandson of James Akroyd who, in 1811, founded the world's largest worsted manufacturers: James Akroyd & Son. Edward was a benevolent employer, supporting many organisations and institutions which enabled his employees to seek better living conditions. He built Akroydon to house his workers and provided them with low cost allotments. He also founded All Souls Church in 1855, after purchasing a former Baptist church at Haley Hill.
It is now a museum, which presents international exhibitions of costume, fabrics, textiles, and toys.
Still standing 2002.