Page 1 of 1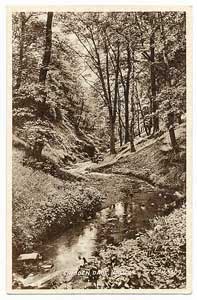 © Valentine & Son Ltd
Shibden Dale, Halifax
View of Shibden Brook amongst woods in Shibden Dale, Halifax, West Yorkshire.
Author: Unknown
Date: not dated
Location: Shibden
Format: Postcard - Mono
Document ID: 100031
Library ID: 34562132
Shibden dale has been a popular tourist destination for Halifax people since Victorian times. Shibden Brook becomes the Red Beck at Brookfoot downstream.
Over the years, 13 different spellings of Shibden have been recorded, all deriving from mispronunciations of Sheep Dene (The Valley of Sheep).