Page 1 of 1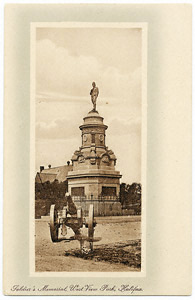 © Glenco Series
Soldier's Memorial, West View Park, Halifax
View of the Soldier's Memorial, West View Park, Halifax.
Author: Unknown
Date: not dated
Location: Halifax
Format: Postcard - Mono
Document ID: 100007
Library ID: 3456156X
Colour postcard of the Soldiers' Memorial in West View Park, Highroad Well, Halifax.
The land was given to the town by local mill-owners Henry Charles McCrea (Mayor of Halifax 1869-1871) and Enoch Robinson (Mayor of Halifax 1904-1905). The park was opened in 1897.
The war memorial to 73 soldiers who fell in the South African or Boer Wars was unveiled in 1904. An elaborate stone structure with bronze tablets, it has a circular upper stage of polished granite supporting a standing bronze figure of a soldier.
In 1937, the statue was blown over in a storm. A balustrade from the eastern side of Halifax Town Hall was removed and placed around the memorial sometime in the 20th century. Three field guns stood by the statue until 1937 when the supporting woodwork was found to be rotten. The memorial is a grade II listed monument.
[undated, probably early 20th century. Pre-1937]