Page 1 of 1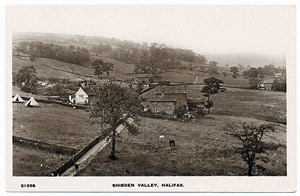 © Strand Series. W.H.S.&S. Hx
Shibden Valley, Halifax (Document ID: 100006)
View of Shibden Valley, Halifax, West Yorkshire.
Author: Unknown
Date: not dated
Location: Shibden
Format: Postcard - Mono
Document ID: 100006
Library ID: 3456199X
Over the years, 13 different spellings of Shibden have been recorded, all deriving from mispronunciations of Sheep Dene (The Valley of Sheep).
Shibden dale has been a popular tourist destination for Halifax people since Victorian times. Shibden Brook becomes the Red Beck at Brookfoot downstream.
Card postmarked 1906.