Page 1 of 1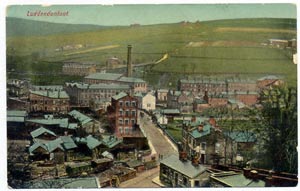 © Lion Series E. W. L.
Luddendenfoot
Elevated view of Luddendenfoot, West Yorkshire. Showing residential and industrial buildings.
Author: Unknown
Date: not dated
Location: Luddenden Foot
Format: Postcard - Colour
Document ID: 100005
Library ID: 3456228X
An example of mill and factory development with housing in Luddendenfoot in the Upper Calder valley.
[undated, possibly late 19th/early 20th century]