Referencing
If you would like to use text or images from this resource in your work you need to correctly reference the source(s). Naturally you will also have to abide International copyright law in that your use of the material must be for non-profit purposes. For further details on your legal obligations please look at our legal information page.
If you wish to use any material in a non-profit publication, please contact us for permission, in most cases this will not be a problem and will also help us keep track of legitimate material use.
When referencing pictorial sources you must acknowledge the author(s), if known, along side the image and also properly acknowledge From Weaver to Web as the source. Please see the example below.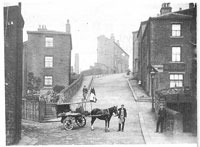 Spion Cop Riley E. (1980)
source: http://www.calderdale.gov.uk/wtw/ accessed 16:50GMT 30.01.2003
For text quotations, simply follow a recognised referencing system such as Harvard or Numerical Referencing ensuring that you include the author, if different from Calderdale Libraries, and Calderdale Libraries.