From Weaver to Web: Online visual archive of Calderdale History
Welcome to the online visual archive of Calderdale history. It gives you access to over 23,000 images, with supporting historical information.
The Calderdale area includes the towns of Halifax, Brighouse, Elland, Hebden Bridge, Sowerby Bridge and Todmorden.
From Weaver to Web provides access to a wide range of materials. These may be very useful to local and family historians interested in this area.
You will find photographs, postcards, maps, trade directories, handbills and many other types of historical sources.
Archive feature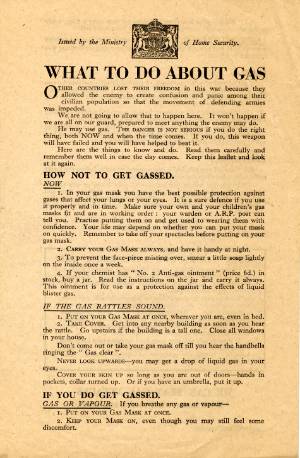 This is a public information leaflet that was distributed to households throughout England, including those in Calderdale, during the Second World War. Leaflets such as this one provided the public with advice regarding what they should do in the event of a gas attack and covered everything from how to use and store a gas mask to what to do should a person ever come into direct contact with gas. The threat of gas attacks was a very real concern for both the British government and civilians and it was therefore deemed necessary to put emergency plans and precautions in place.

In addition to issuing civilians with gas masks, the government also ensured that decontamination units were set up in every area. Local decontamination units could be found in the following locations; Woodside Baths, Boothtown, King Street, Hebden Bridge, Clifton Street, Brighouse and Station Road, Sowerby Bridge.

Air raid wardens were responsible for alerting the public in the event of a gas attack and they would do this by sounding a rattle. Members of the public within that area were then to take cover and remain in the nearest building until an all clear signal was given.

Fortunately, these precautions never had to be put to use as there were no gas attacks.
Themes