From Weaver to Web: Online visual archive of Calderdale History
Welcome to the online visual archive of Calderdale history. It gives you access to over 23,000 images, with supporting historical information.
The Calderdale area includes the towns of Halifax, Brighouse, Elland, Hebden Bridge, Sowerby Bridge and Todmorden.
From Weaver to Web provides access to a wide range of materials. These may be very useful to local and family historians interested in this area.
You will find photographs, postcards, maps, trade directories, handbills and many other types of historical sources.
Archive feature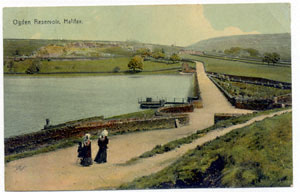 Built in response to the Halifax Act of 1853, this is the first reservoir built by the Halifax Corporation. Constructed in the 1850s at a cost of £94,000, it was designed to hold 200 million gallons.
The area has been a popular local beauty spot. In 1911, the quarry overlooking the reservoir was tidied up and furnished with benches to be renamed Rock Hollow Park, a popular spot for many years with tea rooms flourishing. A Primitive Methodist chapel once stood on the banks near Rock Hollow Park, which was later converted to tea rooms and subsequently demolished. In 1988, the reservoir was renamed Ogden Water, and became the focus for a range of countryside leisure facilities, with woods and trails open to the public.
Apparently Ogden Moor was notorious for illegal gambling schools, occasioning raids by horse buses full of policemen [late 19th century?].
In 1963, the archaeology group from Ovenden Secondary School discovered a section of Roman road over Ogden Moor.
Themes