From Weaver to Web: Online visual archive of Calderdale History
Welcome to the online visual archive of Calderdale history. It gives you access to over 23,000 images, with supporting historical information.
The Calderdale area includes the towns of Halifax, Brighouse, Elland, Hebden Bridge, Sowerby Bridge and Todmorden.
From Weaver to Web provides access to a wide range of materials. These may be very useful to local and family historians interested in this area.
You will find photographs, postcards, maps, trade directories, handbills and many other types of historical sources.
Archive feature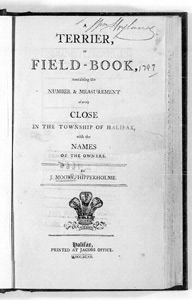 The Terrier, or Field Book, is an account and record of properties, estates and endowments in each parish, together with a list of dwellings and their occupants, composed after the running down of the open field system This particular record was commissioned after the Enclosures Acts of the 1760s to 1780s, part of a long line of enclosures which over the centuries reduced smallholders' land rights, carved up Common Land and finally ended the open field system.
Themes

Local Calderdale Projects