From Weaver to Web: Online visual archive of Calderdale History
Welcome to the online visual archive of Calderdale history. It gives you access to over 23,000 images, with supporting historical information.
The Calderdale area includes the towns of Halifax, Brighouse, Elland, Hebden Bridge, Sowerby Bridge and Todmorden.
From Weaver to Web provides access to a wide range of materials. These may be very useful to local and family historians interested in this area.
You will find photographs, postcards, maps, trade directories, handbills and many other types of historical sources.
Archive feature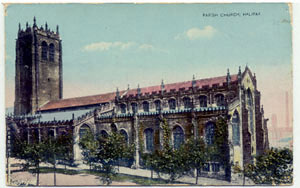 Halifax Parish Church, dedicated to St John the Baptist, is believed to date back to Saxon times, but the first recorded church on this site was in 1120. Monks from the Cluny Priory of Lewis in Sussex were given the Halifax portion of the Manor of Wakefield by the second Earl of Warrenne, some time between 1106 and 1121. The Norman Church was situated to the north and was much smaller than the present one. This can still be partly seen today, as the north wall of the present church incorporates the south wall of the original, and Norman inscriptions can be seen.
The present building was erected in the mid-15th century, the bequest of Vicar John King. Building work started in 1438 and was overseen by Vicar Thomas Wilkinson. The Rokeby and Holdsworth Chapels were added in the sixteenth century.
The Snetzler organ was installed in 1764 at a cost of £1,200. The bell tower was added in 1459. Presently there are ten bells, eight of which were installed in 1787, with the other two added later in 1814. The chimes were installed in 1804. The bells were recast in 1951 and re-hung in 1993.
The original clock was moved to The Castle, and in 1774 Thomas Lister replaced it. The library was established in the crypt by Robert Clay in 1438. The books are now on loan to York University.
The woollen industry can be traced as far back as 1150, as grave stones of this age depict a pair of shears.
In 1879 Sir Gilbert Scott and John Oldrid Scott carried out extensive restoration work. In 1997 a two million pound scheme was proposed to restore the church.
Still standing 2003.
Themes

Local Calderdale Projects