From Weaver to Web: Online visual archive of Calderdale History
Welcome to the online visual archive of Calderdale history. It gives you access to over 23,000 images, with supporting historical information.
The Calderdale area includes the towns of Halifax, Brighouse, Elland, Hebden Bridge, Sowerby Bridge and Todmorden.
From Weaver to Web provides access to a wide range of materials. These may be very useful to local and family historians interested in this area.
You will find photographs, postcards, maps, trade directories, handbills and many other types of historical sources.
Archive feature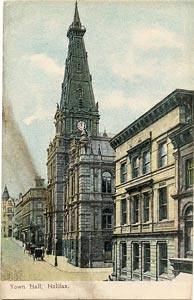 When Halifax was first incorporated as a borough in 1848, there was no administration centre and offices were spread around the town.
The purpose-built Town Hall was first proposed in 1853, with three designs suggested by three different parties led by the Council, Edward Akroyd and John Crossley. The Council asked Sir Charles Barry, architect of the Houses of Parliament, to judge the designs, but he disliked all three proposals, so the council asked him to submit a design also. Barry's design prevailed, and the foundation stone was laid in 1861, after his death in 1860. Barry's son Edward Middleton completed the design, and the Town Hall was constructed by Whiteley Brothers of Leeds, on land owned by John Crossley.
Halifax Town Hall was opened on the 4th of August 1863 by HRH The Prince of Wales (King Edward VII). Around 70,000 people attended, with a service in the Piece Hall.
Still standing 2003. It is a Grade II* listed building; the following is from Calderdale Council's Listed Buildings descriptions:
1861, by Sir Charles and E M Barry. Detached, stone building in very rich classical style. High pavilion or tower at south west corner supporting steeple. 2 main storeys with arcading, orders of engaged columns and round arched openings, above rusticated part basement. Finials to dies in crowning balustrade. Steep metal covered mansard roof with cresting. South front has deeply recessed arcading of 3 bays and one window pavilion to east. South west pavilion has 3 orders of pilasters, recessed clock stage and elaborate metal covered steeple with statues. Weather vane etc. Entrance in west face with arched and balustraded porch with ball finials etc. 2 subsidiary entrances to west elevation with decorative iron lamp standards (lanterns renewed) and in one case with iron balustrade. East elevation has 3 window return to corner pavilion and fully exposed basement with entrance. Rear now open to major road. Interior of considerable interest. Good branching staircase with wall painting by Maclise and 2 by J C Worsley. Good galleried main hall with glazed roof. Council chamber formed circa 1900 in upper part of former magistrates' court of some interest. (All listed buildings in Crossley Street form an important group together with No 2 Wade Street, No 12, Nos 18- 22 (even) and Nos 17 to 33 (odd) Northgate, No 1 (with South extension of White Swan Hotel), White Swan Hotel and Princess Buildings, Princess Street and No 2 Crown Street. Also all listed buildings in Crossley Street form a group with offices of Borough Engineer (rear premises) in Town Hall Street East).
Themes