Places to go
There are lots of places to go and different things to do in and around Halifax.
You can get involved with anything you fancy, whether it's going to a nightclub or joining your local library.
This page will give you an idea of the activities available around Calderdale.
These websites can also help you find out what is on in your area:
Meeting new people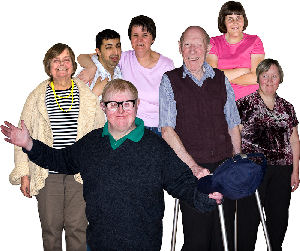 Club Tandem at Arden Road Social Club meets on a Tuesday evening. For more information contact Andy Stubbs on 01422 369142.
Horse and Jockey are a group who meet every Tuesday evening.
Gateway Club at Forest Cottage, Ovenden meet on Thursday evenings. You can call Paul Massam on 01422 353625 if you want to find out more.
Calderdale 16+ Sports Club at Calderdale Sports Centres and Swimming Pools is a great way to meet new people and have fun while staying healthy. The club is held on Saturday evenings from 7pm until 9pm. To find out how you can get involved call Debbie Greenwood on 01422 264740.
Nightclubs and gigs
For upcoming gigs in Halifax, check out local gig guide at the Alive website .
If you want to explore a bit further afield Beautiful Octopus Cluband Stay Up Late organise some great nights out for people with Learning Disabilities.
Beautiful Octopus club give people with a Learning Disability a chance to join in with music and the arts. They offer training in sound, lighting, stage management and digital technology.
Stay up Late is a club organised by the punk band Heavy Load. They believe that people with a learning disability should have the right to go to gigs and nightclubs and stay out late.
Theatres and concerts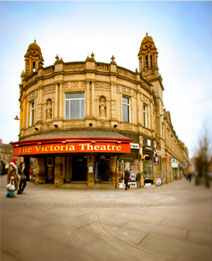 Calderdale has a wide range of theatre experiences on offer.
The Victoria theatre is a great place to go for big productions. There is something for everyone, from wild rock bands to graceful ballet performances. For more information or to book tickets you can visit the Victoria Theatrewebsite or call the Box Office on 01422 351158.
Halifax also has two smaller, independent venues: Square Chapel and The Halifax Playhouse.
Square Chapel celebrates the best in theatre, music and dance. It also hosts lectures, workshops and community events.  To find our more you can call in at 10 Square Road, Halifax or call the box office on 01422 349422.
For exciting, independent plays starring local actors and actresses the Halifax Playhouse is the place to go. It also has a bar where you can relax before and after the show. You can call the Box Office on 01422 365998.
Cinema
Keeping up with the latest films can cost a lot of money. If you go with a parent or carer they can get a ticket for less than the normal price (sometimes even free!) if they have a Cinema Exhibitors Association Card.
Go to the Cinema Exhibitors Association Card website or ask at the cinema for an application form.
You can go online to rent DVDs, download films or find out what's on at your nearest cinema.
You can see films in Calderdale at Vue Cinema, Halifax, Hebden Bridge Picture House and Rex Cinema in Elland.
Library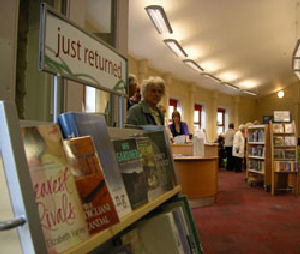 You can join the library at any branch in Calderdale. You will be able to use your card at all the libraries across Calderdale.
As well as borrowing books you can also use the computers at the library.
You can use your card to borrow DVDs and CDs. There is a charge for borrowing these but you can get a discount with your Your spare time card.
For more information and to find your nearest library you can look on the Libraries website.
Dance and acting courses
Mind the Gap is an award winning Theatre Company made up of actors with learning disabilities. They are based in Bradford and their plays tour all around the country. They stage classic plays and their own original work. You can contact them on 01274 487390.
Dark Horse Theatre (formerly Full Body and The Voice) based at the Lawrence Batley Theatre in Huddersfield is a leading vocational trainer of actors with learning disabilities and develops skills in preparation for work in the industry at the highest level. A unique acting methodology offers all Dark Horse actors the opportunity to train for work in all performance media. Graduates of Dark Horse's two year foundation acting course, affiliated to the National Conference of Drama Schools and the Academy of Live and Recorded Arts, have worked in regional and national touring theatre, on television and in film.
If you are interested in dance then Yorkshire Dance has lots of workshops, courses and activities you can get involved with. They hold classes for all different types of dance. Their Mind the Step and Leaps and Bounds courses are for adults with learning disabilities.