Getting about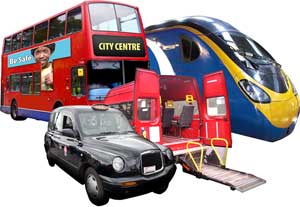 There's a variety of transport options for you in Calderdale. These depend on your needs and circumstances.
Bus and train travel
The Disabled Minibus Association provides a special transport service for disabled people in Calderdale. The service is affordable and can be ordered by calling 01422 346 103.
AccessBus is an accessible door-to-door bus service. A flat fare of £3 per journey applies to travel on AccessBus. Passengers over 60 and disabled people holding English National Concessionary Fare passes travel free of charge. It is available every day from 9am to 5.00pm.  To register for the service or find out if you are eligible, call 0113 348 1903 (7.30am until 4pm, Monday to Friday).
Information about getting a disabled person's pass for bus and rail travel in West Yorkshire can be found at the West Yorkshire Metro: Disabled Person's Pass website.
For information on how to apply for a disabled person's pass, see: Concessionary bus and train pass
To look at timetables or plan a journey on public transport, the West Yorkshire Metro website has all the information you need.
Taxi travel
The Council have introduced two new wheelchair-friendly taxi pick up and drop of points.
The points are located at Commercial Street close to its junction with Cheapside and on Market Street at the Russell Street Junction.
Both sites will provide a safe environment with plenty of space for the passengers. There is also the nearby George Square taxi rank which is also fully accessible for wheelchair users.
Travelling by car

The blue badge scheme allows people who have difficulty walking to park more easily.
Having a blue badge means you do not have to pay when you park at parking meters and in pay and display spaces. In some areas, when you display a Blue Badge, you may be able to park for longer than the normal time limits.
To find out more about Blue Badges and whether you could get one contact Customer First.
To apply for a Blue Badge, see: Apply for a Blue Badge
Travel by coach
Travelling by coach is a good way to see the UK. If you have a disability you can get a discount of up to 50%. Have a look at the National Express website to see where you can go.
To book tickets or sort out some help with your journey you can phone the Disabled Persons Travel Helpline on 08717 818179.