Day Services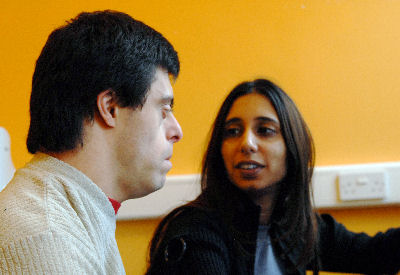 Day services are about learning too! They can offer lots of new things to do and give you the choice to do activities. These can help with independence, learning, getting a job or even just a chance for you to relax.
They can offer activities based on your own needs and interests including independent living skills, volunteering, art, drama and leisure activities.
There are several day centres around Calderdale which are open Monday to Friday. Please contact Lower Valley Support Services on 01422 381206 to find out more.
You can also find out more about day services from the Community Learning Disability Team. They will be able to arrange a visit for you if you want to check out the service. The day centre staff will be happy to talk to you about what is on offer.
Next Step Trust
The Next Step Trust at King Cross, Halifax has a day service with a café, computers, sensory room, sensory garden and support to help people get involved with the many activities across Calderdale.
Opening times are Monday – Friday, 9am - 4pm.
Helping Hands
Helping hands has a range of activities including cooking, woodwork, computers and gardening.
The centre also offers a range of support and advice. Opening times are Monday-Friday 8.15am – 3.15pm.
Pennine Magpie
Pennine Magpie helps people to develop daily living skills.
There's training in IT skills and skills for working life on offer. Open Monday – Friday 9.30am - 4pm.
Community Support Services @ Aachen Hall
Aachen Hall Community support services offer activities such as art, yoga and gardening. Transport can be arranged for you on request.
Open Monday - Friday 9am – 4pm
Skillshop
Skillshop has courses to help improve your self-esteem and confidence, to be more independent and help you to make your own friends.
There is practical training like cooking, woodworking and gardening. You can also improve your reading, writing and maths.
It opens Monday - Friday 8.30am – 4pm.
Scope Aspire Services
A multipurpose accessible centre offering a range of services based at the Hope Resource Centre in Halifax. This includes: building based activities, large accessible skill kitchen, arts and crafts, IT media skills, numeracy, literacy etc. You can get support to access community activities of your choice, planned holidays, volunteer and mentoring opportunities.
There is also a cafe on the premises.
The Hive (Halifax) Ltd
The Hive is small, service user friendly, charity dedicated to improving the lives of adults with a learning disability. This is done by offering a range of enabling activities and training in a warm, friendly and caring environment. Our training is tailored to individual needs via person centred planning with regular reviews.