Healthy eating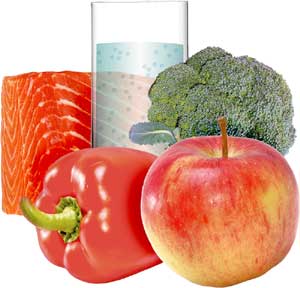 Having a good balanced diet is great for your health. Don't forget to eat a good breakfast in the morning; it sets you up for the day.
If possible, fresh food is best to keep healthy. Try to avoid fatty and sugary foods and drinks and keep salt out of your diet.
Fresh fruit and vegetables are very good for you. You should eat five portions a day to keep a healthy diet. The 5 a day website has lots more information and tips on this.  
Try to have at least one portion of vegetables with every meal. A banana, apple or orange makes a great snack. For something a bit different, you could try a fruit salad or a smoothie.
Make sure you have a balanced diet. You should try to eat plenty of fish and starchy foods such as rice, pasta, potatoes and bread.
Drinking plenty of water is good for you. Try not to have fizzy and sugary drinks.
The Easy Health website has lots more information about staying healthy, including a guide to what foods are good for you and help with planning meals.