Home »
» Money to meet my needs
Money to meet my needs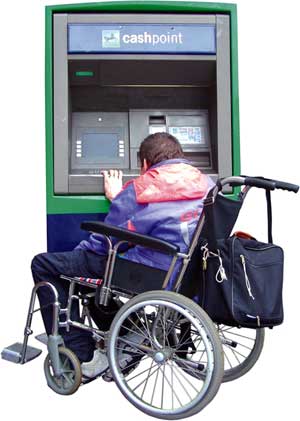 Direct Payments and Personal Budgets are available for you to use to pay for your own care and personal needs.
Direct Payments
Most people who get services from the Council can choose to have a direct payment. Direct payments are a different way of getting the support you need. Instead of giving you a service, the Council can give you money to buy your own support.
There are different types of support, including:
Support from a place or a team of people
Like a day centre, community team or staff where you live
Support with personal care
Like having a bath, washing or getting dressed
Support to live in your own home
Like help with money, cooking or cleaning the house
Support to do the things you enjoy
Like visiting friends, joining in with groups, trying out a sport or even going on holiday.
If you are not happy with the services you get from the Council and you want to do something different you can choose to have a Direct Payment.
You need to tell the Council what services you plan to spend your Direct Payment on. The Council will let you know what you can and can't spend the money on.
Your Social Worker or Care Manager will give you an assessment to find out what support you need. Then they will help you to make a care plan. This will be a list of all the support you need.
To get a direct payment you will need a bank account. If you don't have a bank account you can set one up at your local bank. The Direct Payment will be paid straight into your bank account.
If you decide to take a Direct Payment you will have more choice and control over your life and the services you receive. You will be the boss and you can employ people to help you. You won't be on your own though – The Council has a Support Planning Team who can help you plan and organise your support.
If you want to choose different services but don't want to organise all your own care, you can ask for a Mixed Budget. This is a combination of a Direct Payment and a Care Managed Service. You can choose how much independence or support you need.
If you decide you don't want a Direct Payment the Council can organise your support for you. We have Care Managers who will look after the money and use it to pay for the care you need.
To find out more about Direct Payments or apply to get one, contact the Community Learning Disability Team.
Personal Budgets
A personal budget is an allocation of money given to a person to spend on a support plan. The personal budget holder develops their support plan with social care professionals to meet a jointly agreed set of needs and outcomes.
Personal budgets will give you more choice and control over the support you receive.
A personal budget needs a plan to show how you are spending the money.
Your support worker, carer, family or friends can help you do this.
Personal budgets mean being able to pay for your care in different ways.
Personal budget holders decide how to spend their personal budget in ways they think will achieve their agreed outcomes. Personal budgets can be managed:
by the holder – they receive a direct payment into their bank account to spend as they choose, to meet their agreed outcomes
by the council or third party – the personal budget holder knows how much money is available to them and has a support plan. They ask the council, or another party such as a service provider, to manage the budget to buy services on their behalf or provide services themselves
through an Individual Service Fund (ISF) – an independent care provider, family member of friend spends the budget for the holder to meet the outcomes in the support plan, as specified by the holder or;
through a combination of these methods.