Home »
» Shared Lives of Calderdale
Shared Lives of Calderdale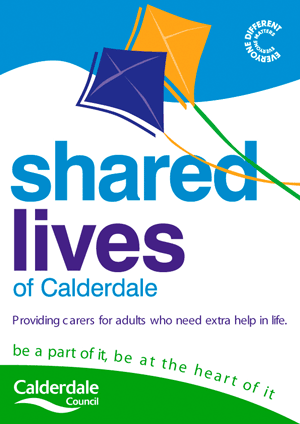 If you need daily care and support but still want your own independence then Shared Lives might be just right for you.
Shared lives carers will share their home with you and include you as part of their family.
There are lots of different kinds of Shared Lives Carers. Some are couples and some are single people. Some have children. Some provide support to more than one person.
What can shared lives offer me?
You can choose your own Shared Lives carer or family
You will have your own bedroom and can bring your own things if you want to
You will share a home which will be clean and well looked after
You will be part of the local community
You will have the company of other people but also have your own independence
You will be able to meet new people and make new friends
You can get the support you need to do the things you choose to do
You can learn new skills
Your carers will respect you and support you to make choices and be in control of your own life.
How will my carer support me?
This depends on what you need and want. They can support you with all sorts of things, such as:
Making hot drinks and cooking
Washing your hair or getting dressed
Taking your medication
Going out
Doing things that you enjoy.
Will I have to keep to lots of rules?
No you won't but there may be a few rules that everyone sharing the house is asked to keep to.
Will my family and friends be able to visit me?
Your family and friends will be welcome to visit you and your Shared Lives carer will make sure that you can see them privately in your own room or in another room in the house. You will also be able to visit your family or stay overnight whenever it is ok for both of you.
Will I still be able to do the things that I like doing?
Your carer will support you to do the things you like doing as well as trying new things if you want to. They can also help you with transport arrangements.
Will I be able to spend my own money?
Yes the money you have left after you have paid your carer is yours to spend on the things you want. If you find it difficult to manage your money alone, your carer can support you with this.
What should I do if I would like to use Shared Lives?
You could tell your social worker, support worker or a relative that you want more information about using Shared Lives.
To use the Shared Lives scheme you will need to have an assessment by a social worker to make sure that Shared Lives is the right service for you.
Shared Lives can be contacted through the Community Learning Disability Team or at: