Home »
» Short breaks and shared lives
Short breaks and shared lives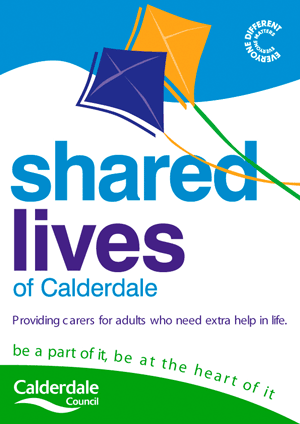 From time to time, we all need a break from our day to day living. Calderdale Council have options that give both cared for and carers a welcome break.
Breaks can be long term or short term, regular breaks or breaks when you need them. It all depends on the needs of the person.
The Community Learning Disability Team offer overnight breaks for you or your family at two locations in Calderdale.
Shared Lives – Short Breaks and Day time support
What is Shared Lives?
Shared Lives can be:
Somewhere to stay for a short break
Somewhere to go for day time support
Somewhere to live.
If you or the person who helps you on a regular basis wants a short break or some support then Shared Lives might be just right for you.
What can Shared Lives offer me?
Short breaks – this could be going out with a Shared Lives carer for the day or staying overnight in their home
There are lots of different kinds of Shared Lives carers. Some are couples and some are single people. Some have children.  Some provide support to more than one person
You can choose your own Shared Lives carer and get to know them before you spend time together
You will share their home which will be clean and well looked after. You will have your own bedroom
You will be able to meet new people and make new friends
You will get the support you need to do the things you want to do
Your carers will respect you and support you to make choices and be in control of your own life.
How will my Shared Lives carer support me?
This depends on what you need and want. They can support you with all sorts of things such as,
Making hot drinks and cooking
Washing your hair or getting dressed
Taking your medication
Going out and doing the things that you enjoy.
Is there a charge for using Shared Lives?
Yes there is a charge. You will be told about this before you use Shared Lives.
What should I do if I would like to use Shared Lives?
You could tell your social worker, support worker or a relative that you want more information about using Shared Lives.
To use the Shared Lives scheme you will need to have an assessment by a social worker to make sure that Shared Lives is the right service for you.
Shared Lives can be contacted through the Community Learning Disability Team or at:
Respite
The Respite service can provide you and your family or carers with the opportunity of a planned or emergency break.
At the moment there are two respite services in Calderdale. They support people with Learning Disabilities and their families.
Glenholme Respite Service
94 Green Lane
West Vale
Halifax
HX4 8BL
St Anne's Aachen Brook Respite and Nursing Service
Luddendenfoot
Halifax
HX2 6AU