Disability sport and activities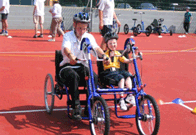 Any type of physical activity can play a beneficial part in enabling disabled people to cope better with the effects of their disability.  Positive outcomes maybe physical, in terms of strength and fitness, and mentally, in terms of the social benefits.  For example promoting and maintaining an independent lifestyle.  There are a variety of sport and physical activities for disabled people to take part in and enjoy within Calderdale. 
If you would like further information about any of the activities or require any advice about disabled people participating in sporting activities, contact:
E-mail: sportsdevelopment@calderdale.gov.uk
Tel: 01422 264740 or 01422 264737
Debbie Greenwood
Sports Development
The Shay Stadium
Shaw Hill
Halifax.

Saturday Sports Zone
Generic disability sports club for young people aged 6 – 16 years.  Running at North Bridge Leisure Centre every Saturday 9am – 12 noon.  Session 1 9am – 10.30am low to medium support needs.  Session 2 10.30am – 12 noon young people with high support needs.
Calderdale Cougars
Calderdale Cougars runs at North Bridge Leisure Centre (September – April) and at Spring Hall Sports Facility and North Bridge Leisure Centre (April – July) every Thursday 4pm – 5pm.  The club is open to young disabled people who want to improve their athletic performances and have fun.
School holiday schemes
Sports Development coordinate and deliver a five week summer holiday programme for disabled young people aged 8 – 19 years.  The scheme runs Monday – Friday and specific days are allocated for different age groups to ensure appropriate level of sport and activity sessions.
For further information contact Debbie Greenwood, Sport and Activity Development Officer debbie.greenwood@calderdale.gov.uk or sportsdevelopment@calderdale.gov.uk.
Events and competitions
Working with Calderdale's two School Sports Colleges, Brooksbank and Hipperholme & Lightcliffe, 'Disability Festival of Sports' and events are delivered targeting young people from primary and secondary mainstream and special schools.
Training and development
Inclusive PE and Sport training is carried out with representatives from schools  throughout Calderdale and sports coaches from Calderdale Leisure Centres and Swimming Pools, promoting the inclusion of disabled young people in school PE and sports coaching sessions.
Useful links
Our sports membership packages offer an unbeatable range of health and fitness activities at different centres across Calderdale.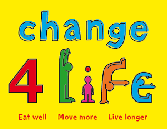 Eat Well, Move More, Live Longer, find out more through Change4Life|