Page 1 of 1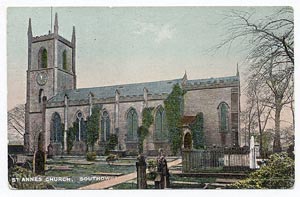 © J. Crossley
St Annes Church, Southowram
External view of St Anne's Church and graveyard, Southowram, West Yorkshire.
Author: Unknown
Date: not dated
Location: Southowram
Format: Postcard - Mono
Document ID: 100314
Library ID: 34241582
Though the present church was built in 1819, the religious history of the site goes back to 1445, when a papal licence was granted to the Manor House in Southowram to erect a 'free chapel', which was dedicated to St John and not under the supervision of Halifax Parish Church. This was followed by the Chapel of St Anne's-in-the-Grove about 1530, probably built by John Lacy of Cromwell Bottom Hall as a chapel-of-ease. Between 1547 and 1549, all free chapels were confiscated by the Crown and the chapel was closed. Soon it was in use again, but closed once more for "lack of maintenance" in 1602. After renovation in 1630, the chapel continued to serve the community until it was taken down in 1816.
The present church building, in the vicinity of the older chapel, was consecrated in October 1819 and designed by Thomas Taylor (also architect of St Mary the Virgin, Luddenden) in a restrained Gothic Revival style. The church is known as St Anne's-in-the-Grove and is said to have inspired Emily Bronte. Anne Lister is buried in the church.