From Weaver to Web: Online visual archive of Calderdale History
Welcome to the online visual archive of Calderdale history, giving access to over 23,000 images, accompanied by supporting historical information.
The Calderdale area includes the towns of Halifax, Brighouse, Elland, Hebden Bridge, Sowerby Bridge and Todmorden.
From Weaver to Web provides access to a wide range of material which may be particularly useful to local and family historians interested in this area.
You will find photographs and postcards, maps, trade directories and handbills, among many other types of historical sources.
Archive feature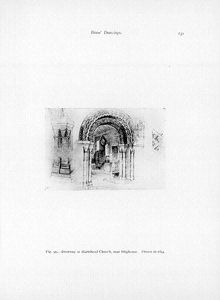 Drawings by Thomas Binns, local artist of the 19th century who published a popular set of "Reproductions of Pencil Drawings" in 1841-1846,s much reproduced thereafter.
p1: "Doorway of Hartshead Church, near Brighouse. Drawn in 1844."
The doorway depicted is of Norman origin and style with its arch of zigzags and double column shafts. Inside the church is a Norman chancel arch (again with zigzags and a lattice pattern), and the font is a 20th century bowl on a Norman pillar. Outside the building, there are two sundials (one of 1611), a fragment of a cross, and the trunk of a yew tree that was here in medieval times.
Patrick Bronte was Vicar of Hartshead from 1810 to 1815, and was here at the time of the Luddite riots that attacked nearby Rawfolds Mill in Liversedge in April 1812, the Luddites gathering beforehand at the Dumb Steeple.
p2: "Base of Celtic Cross, near Hartshead Church, Brighouse. Drawing undated. The Dimensions, which do not come out clearly in the reproduction, are: width at base, 3ft. 6in.; thickness at base, 2ft. 7in.; height, 4ft. 9in.; on the drawing over the slot at the top of the West Face are apparently the words 'at foot 11 inches'."
Half a mile from Hartshead Church are the remains of Walton Cross, either a preaching cross or Saxon wagestan (way stone) dating from the 10th century. Only the base remains, though it was recorded as 15 ft high in the 18th century. Excavated in1867. The West Yorkshire Archaeology Service logo of a circle and rosette knot is taken from the west face of Walton Cross.
Pages taken from "The Yorkshire Coiners 1767-1783. And Notes on Old and Prehistoric Halifax" by H. Ling Roth, Honorary Curator of Bankfield Museum, Halifax. Published in Halifax in 1906 by F. King & Sons, Ltd.
Themes