From Weaver to Web: Online visual archive of Calderdale History
Welcome to the online visual archive of Calderdale history, giving access to over 23,000 images, accompanied by supporting historical information.
The Calderdale area includes the towns of Halifax, Brighouse, Elland, Hebden Bridge, Sowerby Bridge and Todmorden.
From Weaver to Web provides access to a wide range of material which may be particularly useful to local and family historians interested in this area.
You will find photographs and postcards, maps, trade directories and handbills, among many other types of historical sources.
Archive feature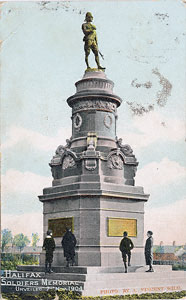 West View Park is situated high on the hillside on Highroad Well Moor, with views over Calderdale. Previously the land had been part of the Manor of Skircoat, with mineral rights and quarries owned by Lord Saville and common land rights for the locals.
The land was given to the town by local mill-owners Henry Charles McCrea (Mayor of Halifax 1869-1871) and Enoch Robinson (Mayor of Halifax 1904-1905). The park was opened in 1897.
The war memorial to 73 soldiers who fell in the South African or Boer Wars was unveiled in 1904. An elaborate stone structure with bronze tablets, it has a circular upper stage of polished granite supporting a standing bronze figure of a soldier.
In 1937, the statue was blown over in a storm. A balustrade from the eastern side of Halifax Town Hall was removed and placed around the memorial sometime in the 20th century. Three field guns stood by the statue until 1937 when the supporting woodwork was found to be rotten. The memorial is a grade II listed monument.
[undated, 1904-1937]
Themes