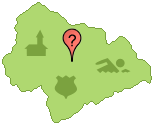 Calderdale Maps Online is designed to provide members of the public with access to Calderdale Metropolitan Borough map based information. This covers: schools, recycling stations, libraries and leisure facilities.
Please note that by using this you are agreeing to our Terms and Conditions
To view a map, please select an option from the list below. Once in the map, you can navigate back to this page by selecting your browsers back button.
Just maps
Community and living
Council and democracy
Education and learning
Environment and planning
Health and social care
Leisure and culture
Transport and streets
Pick and mix