Volunteers
Volunteering in sport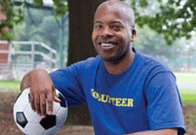 Volunteering is the practice of people working on behalf of others without being motivated by financial or material gain, and people volunteer for a whole host of different reasons.  Volunteers are the backbone of many sports clubs and without them, hundreds of young people and adults would not reap the fantastic rewards to be gained through sport.
If you have spare time and an interest in Sport, then why not become a volunteer? No experience is necessary and opportunities include a whole host of different roles which means there is something for everyone.
Volunteers in Sport project

The Volunteers in Sport project is a scheme run by West Yorkshire Sport to build a sustainable volunteer network in West Yorkshire through placing a Volunteer in Sport Coordinator officer in each of the 5 districts.  It aims to create lifelong partnerships between clubs and up-skilled volunteers that will help deliver a positive legacy for sport.
Why volunteer and what can I do?
Volunteering is a great way to interact with other like-minded people and to make new friends. It is a great way to improve your confidence and skills such as teamwork, leadership and communication. It is also a great thing to have on your CV, and will improve your career prospects.
We have a range of different roles to suit your requirements.  Contact the Volunteer in Sport co-ordinator, e-mail sportsdevelopment@calderdale.gov.uk, telephone 01422 264744, to discuss your interests and where you feel your skills can be utilised. You can give as much or as little time you want and occasional event roles are also available. Alternatively register yourself as a volunteer.
Register as a volunteer
Why not register your interest in volunteering at Coaching West Yorkshire|
; the volunteer in sport coordinator will then get in touch to tailor your skills and interests into a volunteering opportunity.
Register volunteer opportunities in your club
Do you have gaps that need filling in your clubs volunteer workforce?
Are you desperate to run a session but need an extra pair of hands to help you? If so, why not submit a vacancy and we will be able to match you to a volunteer through our volunteer database.
Free Valuing Volunteers Courses
Value your volunteers and make them happier and more productive
'Valuing Your Sports Volunteers' will help you to recruit more volunteers, motivate, retain, reward and manage them even more effectively. By participating in this workshop, you will be able to:
develop an understanding of the importance of volunteers in English Sport
promote coordinated planning for volunteer recruitment, retention, reward and recognition;
identify what clubs and sports organisations should do to prepare themselves to receive new young volunteers, and the type of roles they can undertake;
help build support mechanisms and links;
gain commitment for ongoing volunteer development.
The Volunteers in Sport Programme are offering this course free to clubs.
Find out when the next course is or book on now at Coaching West Yorkshire|
Book online
You can book online for many sports and leisure activities
How are we doing?
We want to know if we're getting it right.
Useful links

Our fitness membership packages offer an unbeatable range of health and fitness activities at different centres across Calderdale.